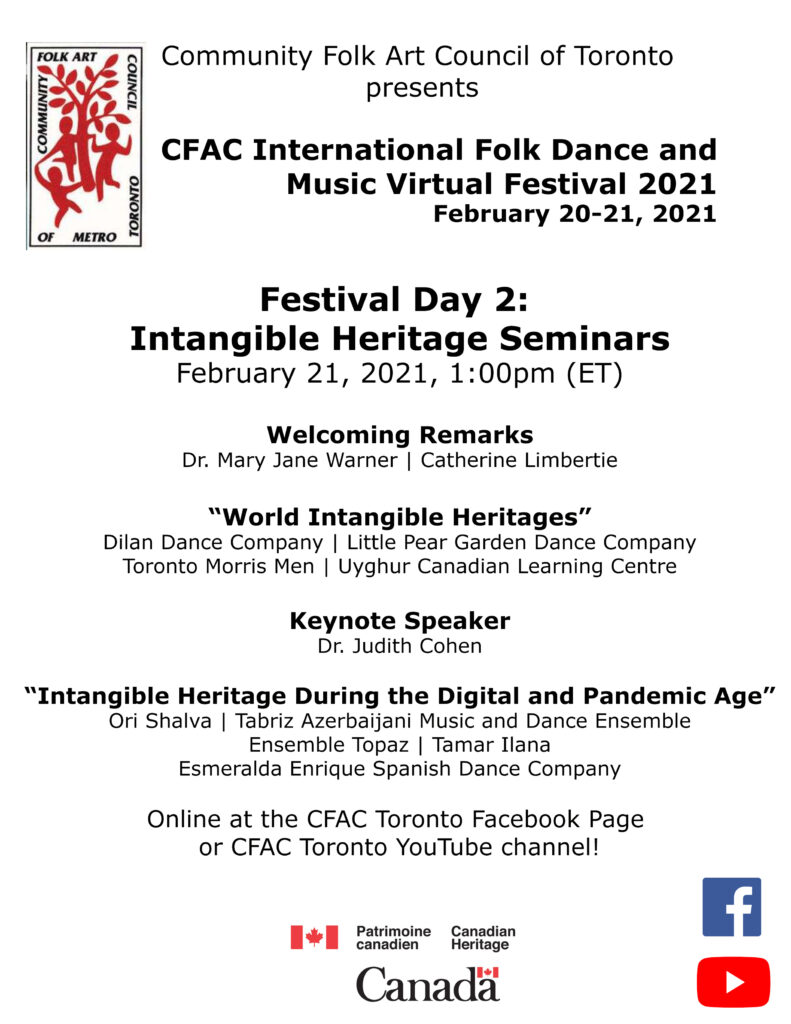 Festival Day 2: Intangible Heritage Seminars
Welcoming Remarks
Dr. Mary Jane Warner and Catherine Limbertie
"World Intangible Heritages"
Dilan Dance Company/Fethi Karakecili
Dilan Dance Company was founded in 2008 by choreographer and ethnomusicologist Fethi Karakecili. The company presents Kurdish, Turkish and other Middle Eastern traditional dance and music. They often transform traditional choreography into a more contemporary, Western dance form, and is also noted for premiering the world's first Kurdish ballets. Dilan Dance Company is represented by Fethi Karakecili.















Little Pear Garden Dance Company/Emily Cheung
Started in 1994 as a Peking Opera collective, then transformed into a professional dance company in 2007, the Little Pear Garden Dance Company is one of the most sought after dance troupes in Canada. Inspired by the rich and diverse tapestry of Chinese dance vocabularies, the Company has created acclaimed and powerful body of work that encompasses both the classical and contemporary productions, warmly received by audience of all ages and cultures. The Company is actively involved in many projects of dance development and promotion, and has enjoyed a consistent presence in festivals, performing seasons and tours. We present the current artistic director, Emily Wing-Mei Cheung.
Toronto Morris Men/John Mayberry
The Toronto Morris Men have been actively perpetrating Morris dancing since 1985, and are now a large group of dancers and musicians, ranging in age from teens to 60+ years. We take the dancing seriously as a basic expression of joy in being alive, and being here now. The men also love to sing, with a repertoire that reflects the same zest and appreciation of good company and good sustenance. John Mayberry is representing the Toronto Morris Men.




Uyghur Canadian Learning Centre/Dilyar Askar
In 2016, the Uyghur Canadian community established the Uyghur Canadian Learning Centre in Toronto. Its mission is to teach Uyghur language, culture, music, art and sport to Uyghur children; keep their Uyghur identity alive; and save this precious piece of intangible heritage from extinction. We have Dilyar Askar representing the centre to discuss their efforts.






























Keynote Speaker: Dr. Judith Cohen
Judith Cohen is a Montreal-born, Toronto-based ethnomusicologist, medievalist, singer, storyteller, instrumentalist and inveterate traveller. She teaches part-time at York University, and is the Consultant-Editor for the Alan Lomax Spain collection. Judith did her masters in Medieval Studies and her doctorate in ethnomusicology at the Université de Montréal. Known internationally for her research and publications on Judeo-Spanish ("Ladino") songs, and on music among the Crypto-Jews of rural Portugal, she is an active performer of the music of her research and travels. Songs from the Balkans, Spain, Portugal, French Canada; songs in Yiddish, Ibizan Catalan, Medieval Occitanian; and pan-European balladry make their way into her performances, lectures and storytelling. Her recent Covid-era online ventures include a lecture-concert for a museum in southern Italy ,and singing to represent Tangiers for an online Mediterranean festival organized by a Spanish ferry boat company.
"Intangible Heritage During the Digital and Pandemic Age"
Ori Shalva & Co./Andrea Kuzmich
Georgian polyphony is a millennia-old tradition, known for its distinctive and haunting harmonies and is recognized by UNESCO as an Intangible Heritage of Humanity. The music boasts a variety of styles, reflecting the diverse geographical and cultural makeup of the country – a mountainous region of the Caucasus, in the crossroads of Europe and Asia. Over the centuries, family ensemble singing has played a significant role in keeping traditional Georgian polyphonic singing alive, and true to this nature, Ori Shalva & co – otherwise known as the Makharashvili family – continues this practice despite being based in Toronto, over 9000 km from the well springs of the tradition. True of the family singing unit, Ori Shalva started by performing mostly in private settings for family and calendric events. Over the years, the family found themselves in more formal performance settings and have since performed in major Toronto venues, like Harbourfront Centre, but also in the NY and all over Georgia. They are also making a name for themselves with their online singing workshops! Andrea Kuzmich represents Ori Shalva & co.
Esmeralda Enrique Spanish Dance Company/Esmeralda Enrique
The award winning Esmeralda Enrique Spanish Dance Company was founded in 1982 under the artistic direction of Esmeralda Enrique and has a history rooted in flamenco and Spanish Classical dance. While maintaining the tenets of traditional flamenco singing, dance and music, the company presents a style that holds in perfect balance tradition and classicism with a contemporary aesthetic. EESDC has been presenting an annual Toronto Season since 1990 and has developed an ever expanding repertoire that has earned both critical and popular acclaim. With unique, talented dancers and musicians the Company is recognized for the exceptional level of their productions receiving two Dora Mavor Moore Awards in addition to numerous nominations over the years, NOW Magazine readers voted EESDC Toronto's Best Dance Company for 2015. Passionate and driven, the Esmeralda Enrique Spanish Dance Company continues to enthrall audiences with its commitment to imaginative choreography and artistic excellence. EESDC is represented by Esmeralda Enrique.



Tabriz Azerbaijani Music and Dance Ensemble/Ramin Shadpour
The Tabriz Azerbaijani Music and Dance Ensemble was founded in 2003 to introduce Azerbaijani music, dance and culture to Canadians. They also offer courses in dance, instrumental and vocal music and organize events and festivities to honour Azerbaijan's history and culture. Ramin Shadpour will represent Tabriz.




Tamar Ilana
Tamar Ilana is a powerful and versatile Canadian singer and flamenco dancer of mixed descent, renowned for her ability to sing in multiple languages and collaborate with various artistic communities from around the world. Tamar has recorded three CFMA-nominated albums with her world music fusion project Ventanas, is the lead singer of Jaffa Road, and dances with Sultans of String. Most recently, Tamar co-founded the presenting arts organization FabCollab, which focuses on BIPOC, female-identifying, and minority voices.