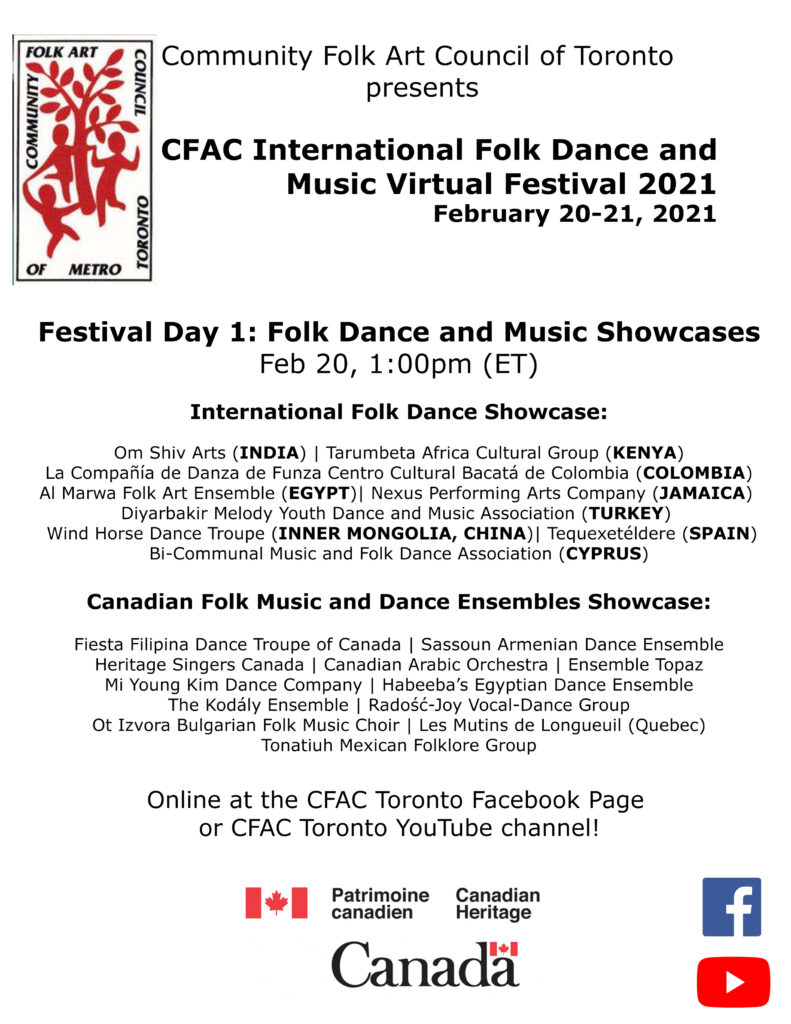 Canadian Folk Music and Dance Ensembles Showcase
The Canadian Arabic Orchestra
The Canadian Arabic Orchestra, a registered charity organization committed to reviving fine Arabic music and to promoting multicultural understanding in Canada. Since its first concert of classical Arabic Music in 2014, the Orchestra has sought to maintain the cultural heritage in the hearts and minds of the Arab community in Canada and to present it to future generations. Also, the Orchestra seeks to engage with non-Arab communities in the Canadian cultural mosaic. Based out of Mississauga, Ontario, the Orchestra has performed a number of successful concerts in the past few years across different cities and provinces.
Ensemble Topaz
Ensemble Topaz is a Toronto-based music and dance company, founded by dance artist Paromita Kar and composer Mike Anklewicz, and dedicated to dance and musical traditions focusing on Afghan, Iranian, Central Asian and South Asian cultural forms. Ensemble Topaz performed in Ontario and beyond. Highlight performances include the Tales from the Silk Road at National Arts Centre, Ottawa, Tirgan Festival, CNE International Stage and many more. Ensemble Topaz had the honour of performing Kazakh music and dance at Bombardier Commercial Aircraft, celebrating the delivery of the first Q400 aircraft for Qazaq Air, the national airline of Kazakhstan. Ensemble Topaz was the recipient of the Ontario Arts Council Recording Grant in 2019, and Ontario Arts Council Dance Training Projects: Equity and Access grant in 2020.
Fiesta Filipina Dance Troupe
The Fiesta Filipina Dance Troupe (FFDT), established in 1966, is the premier traditional Filipino performing dance company in North America. It is a member of the Community Folk Arts Council of Toronto and Folkore Canada International. Led by Executive Director Estrellita Aguinaldo, its successes and mission has made this troupe an institution for many up and coming cultural dance troupes from around the world and for Filipinos and Filipino enthusiasts. This acclaimed Filipino-Canadian folk arts ensemble, made up exclusively of volunteers, has been dedicated to promoting, preserving and propagating Philippine arts and culture in Canada and the world through music, song and dance for over 50 years.
Habeeba's Egyptian Dance Ensemble
Founded in 1990, Habeeba's Egyptian Dance Ensemble provides colourful and lively dance performances based on the rich variety of dances found across the Middle East. They have performed widely across corporate events, festivals, weddings, zaffas, fundraising galas, engagement parties, bridal showers, bar/bat mitzvahs, anniversaries, christenings, birthdays and cultural events throughout Ontario and beyond. Members of Habeeba's Egyptian Dance Ensemble are each accomplished soloists who regularly perform at private and public functions across the city, nationally and internationally.

The ensemble's artistic director, founder and choreographer, Egyptian-born Habeeba Hobeika is an accomplished soloist herself, and a much celebrated Egyptian dancer and choreographer throughout North America and the Middle East. Born and raised in Alexandria, Egypt, Habeeba Hoboeika spent much of her childhood traveling throughout Egypt, Syria, Jordan, Saudi Arabia and Lebanon.

Her experiences have given her a lifelong appreciation of Middle Eastern culture and dance, and have instilled in her a deep pride in her heritage. It has led to a desire to perfect the art of Raks Sharki (belly dancing) and Egyptian folklore dance and bring it to the stage for the world to appreciate.
The Hawaiian Pacific Dance Ensemble
The Hawaiian Pacific Dance Ensemble Represents The Polynesian Community Of Toronto, Canada. The Group Was Formed In 1982 With Five Young Dancers, Which Eventually Grew To 200 Talented Young Artists Who Perform Locally, Nationally, And Internationally. Their Objectives Are To Spread The ALOHA Spirit And Enhance The Understanding Of The Polynesian Culture As Expressed Through Traditional Music And Dance As An Art Form. The Group's Repertoire Is Diverse, Representing The People Of The South Pacific, Which Included The Ancient Hawaiian Hula, The Magical Poi Dances Of New Zealand, The Exciting And Pulsating Tahitian Otea, And The Authentic Dances Of Fiji And Samoa.
The Heritage Singers
The Heritage Singers, in its 43rd year of existence, is a 30 member group with professional, working adults that take the time to travel, performing popular songs and sharing the Caribbean and African folklore. It was founded in January 1977 by its Music Director, Grace Carter-Henry Lyons. Grace's folk music experience began in Jamaica with "The Jamaica Folk Singers" under the direction of the late Ms. Olive Lewin. The group is a reflection of the Canadian mosaic found in Toronto, with members over the years hailing from many parts of the world -Barbados, Canada, Ghana, Grenada, Guyana, Jamaica, Pakistan,St. Lucia, South Africa, St. Vincent, Trinidad and Tobago, and The Congo.

The Heritage Singers have a rich repertoire of music, from Sacred to Secular, Religious, Work songs to Lullaby, Seasonal ditty to Perennial ballad. The languages of these songs range from discernible Standard English Creole with an English-Lexical base, to French patois, informal Spanish and African dialect.

The group has performed at International Folk Festivals worldwide, Holland, Germany, Taiwan, Venezuela, Jamaica and Mexico. In North America, they have attended festivals in Harlem, New York, Montreal, Ottawa, and Saskatchewan. In Jamaica, the 1995 Annual Maroon Independence Festival in Accompong. In Toronto they have performed widely across many venues, ranging from churches, schools, hospitals, libraries, The Zoo, The Granite Club, City Hall, the CNE with The Hon Louise Bennett-Coverley to welcome the Queen, The JCA Center, Nursing Homes, The Police Headquarters, and the Roy Thomson Hall.
Kodály Ensemble
Kodály Ensemble is dedicated to learning and preserving Hungarian folk dance, songs and traditions, and 2020 marks the 60th anniversary of this beautiful ensemble.
The ensemble currently has six groups (three kids groups, a youth group and two adult group), and performs & hosts various events throughout the year to spread Hungarian folk culture and host several events such as Táncház (Dancehouses).
Mi Young Kim Dance Company
Mi Young Kim immigrated to Canada and founded the Korean Dance Studies Society of Canada in 1979 and began her annual stage performances in 1997, showcasing her traditional and contemporary/creative choreography. The Mi Young Kim Dance Company is the professional dance group portion of the Korean Dance Studies Society of Canada.

Working in both traditional and contemporary Korean styles, they perform and conduct workshops throughout Canada. Drawing inspirations from the cultural diversity in this country while keep referring back to her root, Mi Young Kim has done much to develop Korean dance for her multicultural audience. She strives to create a uniquely Korean–Canadian dance style. While Mi Young Kim has won numerous top awards in Korea for her dancing, her dancers have also won prizes in Canada with her choreographies, including gold awards at the Kiwanis Dance Festival of Toronto. In addition to performing actively in the community, the company presents full–evening performances every 2 years, alternating with the Soo Ryu Dance Festival.

Artistic Director Mi Young Kim's achievement in Canadian–Asian dance is widely recognized. As the face of Korean-Canadian dance, she has facilitated many cultural exchanges, workshops and artist-in-residence programs between the Korean Dance Studies Society of Canada and institutions and artists in Korea and Canada. In 2018, Mi Young Kim was awarded Ontario Lieutenant Governor's Lifetime Achievement Award for her tireless contributions to the art communities in Canada.
Les Mutins de Longueuil
Les Mutins de Longueuil is the oldest active folk dance school in Québec. Founded in 1960, the school aims to take students around the world through the practice of Quebec and international dance. The group welcomes dancers from the age of 2 years old. Through tours, shows, workshops, and classes, Les Mutins preserve and transmit traditional dances, songs, and other cultural manifestations. As part of this festival, the group will present a short performance of two Quebec folk dances, recorded while on tour in Poland.
Ot Izvora Bulgarian Folk Choir
Motivated by the beauty and richness of Bulgarian folk music and funding from the Toronto Arts Council, Ot Izvora "From the Source") was formally established in 2015. Directed by Dr. Irene Markoff and with the assistance of Sonia Kiriakova, the all-Bulgarian choir rehearses weekly with great enthusiasm and performs at Bulgarian and Canadian events. The choir's repertoire includes authentic and arranged songs from Bulgaria's diverse ethnographic regions performed a cappella or with instrumental accompaniment. Choir members include Irene Markoff, Sonia Kiriakova, Radiana Kozareva, Dimi Dragieva, Galina Petrova, and Galina Markova.


Radość-Joy Vocal-Dance Group
In early 1990, with the encouragement of then Pastor, Father Stanislaw Bak and the initiative of Ania Piwowarczyk, a group of young parishioners gathered to form a choir at St. Maximilian Kolbe Church. In 1991, when Pani Ania was invited with her group of singers to perform for "Betlejem Polskie", this group of children became the first and founding group of Radość-Joy.
While the group began as a vocal group, it was clear that their talents reached beyond their vocals. Pani Ania soon added dance and acting to their repertoire and the Group became Radość-Joy Vocal/Dance Group. With the hard work or members, parents, sponsors, choreographers, audiences and the pastoral team of St. Maximilian Kolbe Parish, Radość-Joy has blossomed into a professional group recognized by the International Council of Organizations of Folklore Festivals and Folk Arts (CIOFF) and the Official Partner of UNESCO. Their repertoire consists of folklore, patriotic and religious numbers and perform internationally as well as at charities, fundraisers, gala, seniors' homes, hospitals and a variety of cultural festivals.
Sassoun Armenian Dance Ensemble
Sassoun Armenian Dance Ensemble was established in 2004. Under the leadership of Artistic Director and Choreographer Sevag Avakian, and Assistant Director and Costumes Coordinator Sareen Avakian, the group of over 90 members has performed annual performances for the past 15 years.

Aside from annual performances since 2004, the group has also participated in countless multicultural events, performed in plays and music videos of local and also world renown Armenian singers, performed at the ACC during the opening of a Raptors game, on the International Stage of the CNE, and has been invited to perform internationally all over the world, including Armenia, Argentina, Uruguay, New York, Australia and most recently in Washington DC for the 2018 Smithsonian Folk Festival.
Tonatiuh Mexican Folkloric Group
The Folkloric group Tonatiuh was founded on October 2001 by Luz Adriana Castillo a graduate from the National School of Folkloric Dance in Mexico City. The group offers classes for in performance traditions rooted in Mexican folklore and several different Mexican dance traditions, and performs in various events across the GTA.






International Folk Dance Showcase
Al Marwa Folk Art Ensemble (EGYPT)
Al Marwa Folk Art Ensemble was founded in 2008, and currently consists of 40 members, including both men and women. The band has participated in many Egyptian and international festivals such as in Greece, Poland, Czech Republic, and Dubai, and has won several awards as well.







Bi-Communal Music and Folk Dance Association (CYPRUS)
Bi-communal Music and Folk Dance Association " CYPRUS " was started in 2010 when folk dancers from both communities got together and established Bi-communal Music and Folk Dance Association "CYPRUS". The Association was registered in 2012. This beautiful ensemble prides itself on dancing for peace and unity.


La Compañía de Danza Centro Cultural Bacatá de Colombia (COLOMBIA)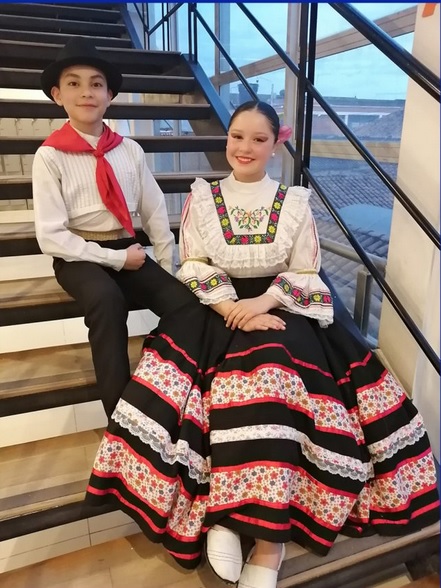 Diyarbakir Melody Youth Dance and Music Association (TURKEY)
This award-winning group from Diyarbakir Turkey has performed and won awards at prestigious folk dance festivals throughout Turkey and internationally. Truly looking forward to their performance!





Nexus Performing Arts Company (JAMAICA)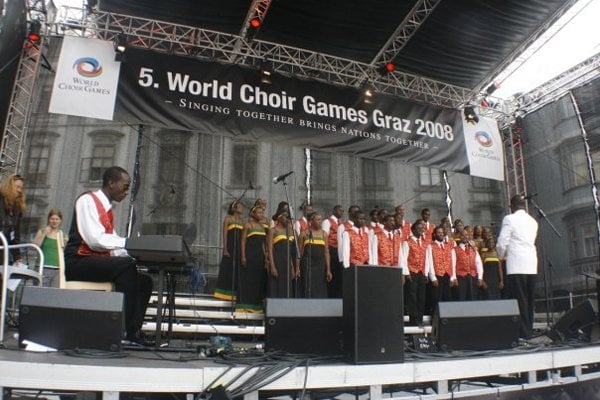 Om Shiv Arts (INDIA)
OmShiv Performing Arts (India) presents traditional and contemporary folk dances from India, and has performed in a number of festivals. They are presenting a traditional Rajasthani Chirmi dance.

















Tarumbeta Africa Cultural Group (KENYA)
Tarumbeta Africah (Kenya) presenting traditional folk dances from Kenya!













Tequexetéldere (SPAIN)
Tequexetéldere (Galicia, Spain): performing traditional dances of Galica. This group is dedicated to the preservation and presentation of traditional dance, music and clothing of Galician heritage.








Wind Horse Dance Troupe (INNER MONGOLIA, CHINA)
Wind Horse Ensemble (Inner Mongolia, China) The Wind Horse, or "Khiimori" in Mongolian, represents the human soul and is a symbol of spirit. This dance troupe is a group of passionate young dancers representing the grasslands and deserts of Inner Mongolia.